The Musicnotes Sheet Music Player app for iOS now includes a metronome function. You can open this functionality by tapping on the Metronome button in the top bar within the sheet music viewer.

When you tap on the Metronome icon, a popup will appear that will allow you to choose what you would like the metronome's BPM (beats per minute) to be. You can choose from several options to select the rate your metronome will play.
Please note: the metronome will have a default tempo of 120 BPM for all imported PDFs.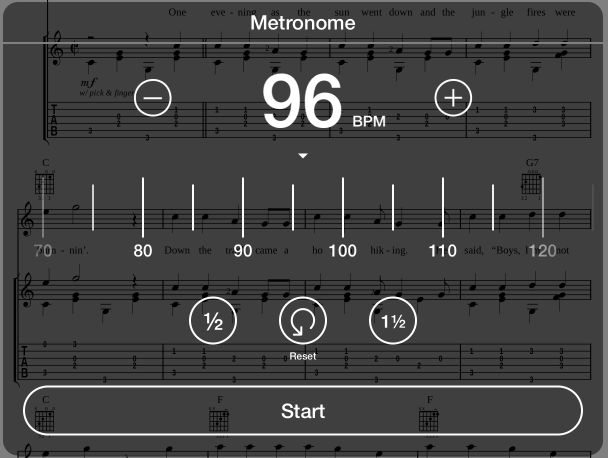 Use the "plus" and "minus" buttons to increase or decrease the BPM by one beat at a time.


Use the selector/slider to choose from a pre-set rate.

The "1/2" button will set the BPM to half

of the default tempo for the piece you are viewing

.

The "1 1/2" button will set BPM to 1.5 times the

default tempo

.

The "Reset" button will return the metronome to the default tempo.

After setting your desired BPM, tap the "Start" button. The popup will close and you will now hear a steady beat at your chosen BPM to follow along with.
The Metronome button will appear on the top menu bar (tablets) or next to the "Play" button (phones) and pulse at the same rate as your selected BPM during playback.

Please note: if you enter full screen while the metronome is active you will still hear the sound, but the flashing button will not be visible until you exit full screen mode. While the button is hidden, you also will not be able to turn off the metronome until you exit full screen mode.
To adjust the tempo again, tap on the Metronome Button and the popup will reappear. You may choose to change the BPM and the tempo will adjust accordingly without having to stop and restart. If you wish to stop the Metronome entirely, press the "Stop" button at the bottom of the popup.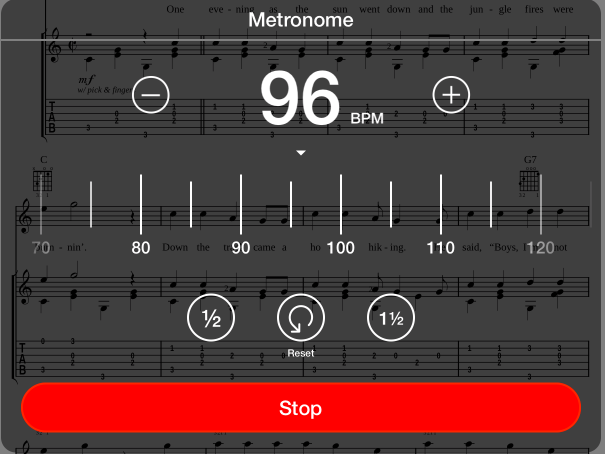 Save