Transpose Your Sheet Music
If transpositions are available for the sheet music arrangement you have purchased, you will notice a "Transpose" icon on the top toolbar. If you do not see the icon when you open a piece, it means there are not currently transpositions available for your arrangement, however you may contact our Customer Support team for additional assistance.
Please note: Certain types of products - including, but not limited to, Guitar TAB, virtuosic arrangements or Marketplace arrangements - cannot be transposed.

To transpose your sheet music to another available key, simply tap on the icon and a list of available keys will be displayed.
The transposition that you purchased on our site will by default appear in your list, highlighted blue. Any transposition that has not yet been added to your device will display a "tap to download" button. Once you have successfully downloaded a transposition, the button will disappear.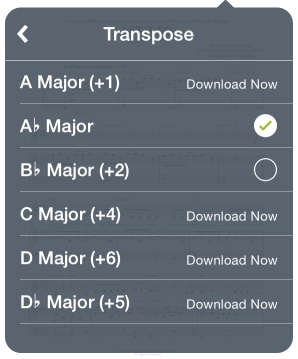 From the list of available transpositions, simply tap on the key you wish to transpose to, and if the transposition has already been downloaded, your piece will reload in the new key. If the transposition has not yet been downloaded, you will be asked if you would like to download just the selected key or all available transpositions. To download a transposition you must be connected to the internet, but once a transposition has been downloaded, it will remain stored on your device for offline use.
If you prefer, you may also adjust your settings to always include transpositions for songs when you import. This option is available in the Settings section of the app.
Please note: Selecting to download all transpositions by default in your settings will increase download time during import, as there is more data to download.