Please Note: The Musicnotes Viewer for iOS app is considered legacy software; it will not receive any future software updates. This article has been retained for resource purposes only.
You may continue to use the app, however as time progresses, you may experience more and more frequent issues when using the legacy app to access your purchased music.
Additionally, this legacy app will be unable to access newer product types that may have been purchased under your Musicnotes account.
For the best digital sheet music experience, we recommend either:
When you first launch the Musicnotes app, you will be prompted to log in to your Musicnotes.com account. You must be logged into your account to view and play the music that you have purchased.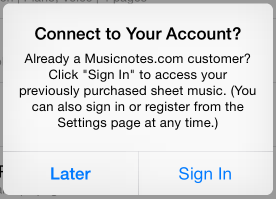 When you log in, you will be prompted to import all of your songs. You may also choose not to do so in order to selectively import songs later. If you choose to select your songs now, you will be taken directly to the import selection screen. (Please see the Manage and Import Your Sheet Music topic for more information.)
If you choose not to log in, you will enter the app as a Guest User, and will have only a small selection of free songs available to you. You may still choose to sign in at any time. To log in, change the signed in user, or to log out, go to the Settings section. (Please see the Options And Settings topic for detailed instructions.)
The app will remember the last person who was logged in, so if you are the only user of this app on your device you will not need to log in again.
Save