Founded in 1998 and headquartered in Madison, Wisconsin, Musicnotes.com is the world's largest e-commerce sheet music retailer and publisher, providing over 500,000 pieces of officially licensed digital sheet music and guitar tablature to 9 million customers around the globe.
As the world leader in downloadable sheet music, we offer the best selection of 100% officially licensed and legal arrangements, covering all major instruments for musicians of every skill level. Musicnotes.com has sold 60 million sheet music downloads to-date, and it has been recognized as one of the Top 500 Retail Web Sites every year since 2006.
WHO WE WORK FOR
Hear it, love it, play it... it's the guiding principal for everything we do. More than 9 million musicians choose Musicnotes as their sheet music source. Whether you're a professional musician, a music educator, a casual pianist or a music student, we strive to provide an unparalleled sheet music experience.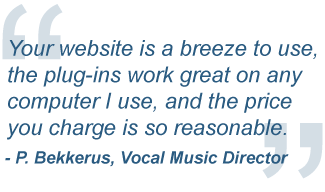 Easily browse or search our enormous digital catalogue consisting of everything from the latest pop hits to unique arrangements no longer in print production. Preview and listen to the first page of your song.

Purchase and download your sheet music file.

All downloads may be downloaded and viewed on our FREE apps for a variety of different devices. Many downloads also include key transposition when applicable.

Print your sheet music, and purchase additional print outs of your music for a special discounted price.

Enjoy superior customer support.

Should you ever need it, we provide excellent customer support for musicians, provided by musicians.
WHO WE WORK WITH
Partnering with music publishers of all sizes throughout the world, Musicnotes has established a longstanding commitment to support songwriters, artists and music publishers through legal commerce.
Adding dozens, sometimes hundreds, of new professionally arranged titles each week, we're able to ensure our offering meets the demands of a tech and music-savvy customer base. Our ever-growing catalogue includes downloadable sheet music from publishers like Alfred Music Publishing, Sony/ATV Music Publishing, Disney Music Publishing, BMG, Bourne Music, EMI Music Publishing, Universal Music Publishing, Brentwood-Benson, Peermusic Publishing, World Music, Shapiro Bernstein, ICG, The Loving Company, Manna Music, Spirit Music, Faber Music LTD and EMI Christian Music Publishing with many titles from other publishers continually being added to our digital assortment.
MUSICNOTES IN ACTION