Using the Audio Mixer
You may select which tracks are played, and their relative volume, by using the Audio Mixer menu option at any time while the toolbar is in playback mode.

To control the volume of a track, or silence it entirely using the Mute button, simply use the slider for the track you would like to adjust.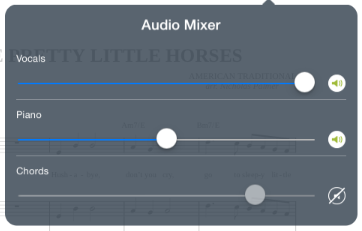 When you exit playback mode, the instrument mix you chose will be retained for the next time you open it (even if you sign out, close the app, or remove the song from your download list). You can change the instrument mix both during playback and while stopped.
Please note: If the piece you are viewing contains Guitar Chords above the staff lines, the option to adjust them will be available in the Mixer unless you have set the "Play Chords" setting to "Never" on the app Settings Page.
For Guitar TAB pieces, you will see either the guitar notation track or the guitar TAB track in the mixer based on which is going to be audible when the music is played. (You may adjust this in the "Play Guitar Tab" setting on the Settings Page).